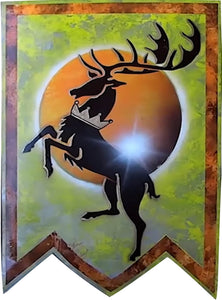 Game of Thrones - House of BARATHEON banner
Regular price $140.00 Sale
This is how it's made:
Note:
* I'm not creating two 100% identical paintings. Every painting is unique, so when you're ordering my paintings, You are aware that you will not get exactly the same painting as is shown in the video, but similarity is 90%.
** Dimensions of the painting on this video is: small - 45cm x 30cm (18in x 12in) And because huge amount of orders painting can be done in 30 - 35 days :)
Shipping is free worldwide and it take about 5-10 days to arrive (from Germany) from day of shipping :)
Dimensions of a small painting: 45cm x 30cm (18in x 12in)
Dimensions of a large painting: 70cm x 45cm (28in x 18in)
Free Worldwide shipping.